God designed us to enjoy a relationship with Him. Join us so we all may grow closer to Him and each other through Jesus.
Learn more
Service Times
8:00

am
Sunday 8:00 am
Sunday
Sunday School for Children & Adults
9:30

am
Sunday 9:30 am
Sunday
10:45

am
Sunday 10:45 am
Sunday
+ + +
Resource of the Month for October
Jesus said, "I am the way and the truth, and the life. No one comes to the Father except through me" (John 14:6). This doesn't sit well with everybody. As soon as you say that there's a right answer to something, you're also saying that there's a wrong answer, or an infinite number of wrong answers. Is the Gospel truly good news? Of course, it is! The Good News is great news! In this Bible study, learn how the apostles Peter and John always point to Jesus for salvation, and not to themselves. This will encourage us to want to talk about Jesus, and Jesus alone.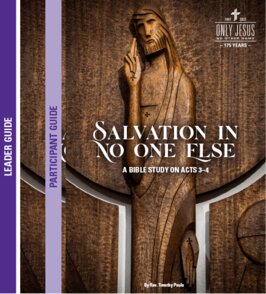 + + +
Marriage & Relationship Education Center
Tuesday, November 15, 2022, 6:30 PM - 8:30 PM
Uniontown Bible Church
4272 Watson Lane, Union Bridge, MD 21791
Register here.
+ + +
America's Warriors Care Package Projects
A box is located in the narthex for donations. A list of acceptable and needed items can be found here.
+ + +

+ + +